ShreeJyotish.com has been created with the intention of providing individual astrological information and remedies to you individually. Since time immemorial man has continuously striven to know the future, ShreeJyotish.com aims at revealing this most hidden but vital aspect of life.
ShreeJyotish.com endeavors at covering all the diverse aspects of astrology Indian as well as Chinese which is as old and acknowledged as the Indian system. ShreeJyotish.com includes services in various fields of numerology, palmistry, zodiac system, vaastu etc. by a well known and well read astrologer
Acharaya Parmanand Sharma ji
.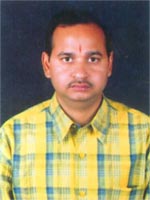 About Astrologer:
Acharaya Parmanand
was born in a religious family and grew up in an environment of Vedic culture and studies. His Father is a well known Vaidya and also practices astrology. The child hood interest grew into art and with an ability of unique insight and accurate calculations he nurtured his skills with proper studies He completed his studies in astrology till University level, Submitted his Ph.D in Vaastu Shashtra, did his B.Ed. and M.Ed. in Sanskrit.
Having sound knowledge and predictive accuracy over topics such as marital compatibility, progeny, profession, financial stability, love life, education & career, he also has a firm grip over rectification of chart data which is an important aspect for predictive astrology since a lot of people are unaware of their birth data.
Indian Vedic Astrology:
Indian Vedic Astrology that we practice answers all the questions regarding health, wealth, family, marriage, profession, career, finance, business etc. It is based on the principles and parameter that are more accurate than Western or Chinese Astrology. The intricate mathematics of Indian Vedic Astrology is the source of its amazingly accuracy. It does various calculations on the basis of the movement of planets, their correlation and planetary placements.